Major League Soccer
Saturday 12th September 2015
Kick off 19.30 Actual 19.38
F.C. Dallas 2 New York City F.C. 1, attendance 16,937
45′ 1-0 T. Akindele
45+4′ 2-0 Michel
70′ 2-1 P. Mullins (pen)
@ Toyota Stadium
9200 World Cup Way,
Frisco, TX 75034
Admission $38
Programme free, 4 pages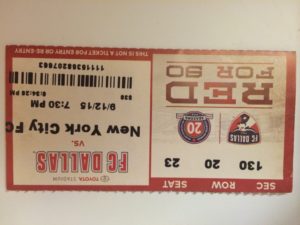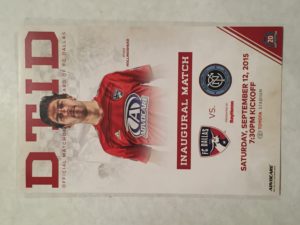 Toyota Stadium cost $80 million to build and was opened on August 6th 2005 taking on the name of its current sponsor in September 2013 and has a capacity of 20,295.
When arriving at the ground, which is a fair drag north of Dallas, there was a long queue to get into the car park right next to the stadium, despite it being $20 for the privilege, but across the road, no more than 50 yards away it was free to park. Just shows that people really are lazy, or have money to burn. Probably the former.
When  arriving here in Dallas, my plan was to get a season ticket here and when FC Dallas were away visit other stadiums. However, having endured a game sat amongst some of the least knowledgable football supporters you could ever come across, then this might be my only time I ever bother to visit here.
There  was the loudmouth sat a few rows back giving a commentary to his mate, which was bad enough, especially as he hadn't got much idea about the game, before the real clincher came when it was announced that a Dallas player had been awarded a yellow card, prompting a number of idiots to stand up and give a round of applause and whooping "go Dallas "! What an embarrassment.
I will probably have to get used to getting up and down in my seat as constant streams of late comers arrive well into the game and then having found their seat, come straight back out to go and get food and drink, before then missing the last 10 minutes of the half to go and get yet another drink and hot dog and repeating this action at least once more in the second half. Why on earth has the stadium been built with the seats facing the pitch ?  A vast majority of the crowd have certainly not come to see any of the sport on offer, especially if it gets in the way of eating and drinking, followed by more eating and drinking.
As for the match. Very poor standard, despite Pirlo, Lampard and Villa in action for the visitors, although all three were substituted. Both sides would struggle in League Two in England on this showing.