National Football League
Sunday 22nd November 2015
Kick off 13.05
San Diego Chargers 3 Kansas City Chiefs 33,  attendance 65,837
@ Qualcomm Stadium
9449 Friars Road
San Diego, CA 92108
Admission $56 + $10.99 fees (resale) print at home ticket.
Programme free, 16 page newspaper.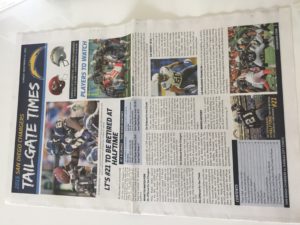 This was my first ever game in the NFL. KCC were far too strong and could have won by a much greater margin.
The stadium was opened in 1967 as San Diego Stadium, before becoming the Jack Murphy Stadium and in 1997 it took on the sponsors name. The San Diego State University Aztecs also play their home games here and it has staged three Superbowls, the last being in 2003.
The capacity here is 70,561 and being situated very near to the freeway it means a trouble free getaway. At least it was for us, as we parked in the tailgate area of the car park, for $25, and were soon away as most of the others here seemed in no rush to leave and in less than 5 minutes it was back on the freeway heading north back to LA.