National Basketball Association
Sunday 20th December 2015
13.00 Tip off
Brooklyn Nets 85 Minnesota Timberwolves 100,  attendance 14,552
Nets Starters ;
Brook Lopez, 20 pts, 12 reb, 5 ast, 1 stl, 2 blk
Bojan Bogdanovic, 13 pts, 3 reb, 2 ast, 2 stl
Thaddeus Young, 12 pts, 8 reb, 1 stl
Joe Johnson, 6 pts, 6 reb, 6 ast
Jarret Jack, 4 pts, 3 reb, 6 ast, 1 stl
Playing Reserves ;
Wayne Ellington, Donald Sloan, Andrea Bargnani, Markel Brown, Willie Reed
Timberwolves Starters ;
Andrew Wiggins, 16 pts, 3 reb, 1 stl, 1 blk
Karl-Anthony Towns, 24 pts, 10 reb, 1 ast, 1 stl, 2 blk
Ricky Rubio, 8 pts, 2 reb, 15 ast, 4 stl
Tayshaun Prince, 4 pts, 1 reb
Kevin Garnett, 0 pts, 7 reb, 2 ast, 2 stl
Playing Reserves ;
Gorgui Dieng, Zach LaVine, Kevin Martin, Adreian Payne, Shabazz Muhammad, Andre Miller, Nemanja Bjelica, Damjan Rudez
@ Barclays Center
620, Atlantic Avenue
Brooklyn, NY 11217
Admission $38 + $7.44 fees,  print at home ticket
Programme free, 56 pages.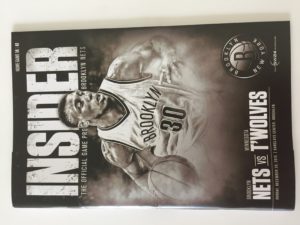 Barclays Center was opened on 21st September 2012 and has a capacity of 17,732. It is also home to The New York Islanders NHL team.
This is as easy as it gets to reach by public transport. Simply take the subway to Atlantic Avenue-Barclays Center and as you exit the station the arena is right in front of you. The surrounding area has seen a massive regeneration project so plenty of eateries within easy reach of the arena.
We had former President George W. Bush introduced to the crowd on the big screen at SMU Mustangs basketball last month, but has he been gazumped as our most famous fellow spectator by Sir Paul McCartney ?