National Collegiate Athletic Association Division II
Lone Star Conference
19.00 Tip off
Tarleton State University Texans 65 Texas A&M University-Commerce Lions 67,  attendance 3,146
@ Wisdom Gymnasium
1330, West Washington Street
Stephenville, TX 76401
$7 admission
Team Sheet, free.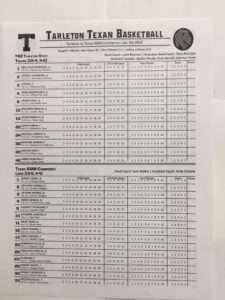 Wisdom Gym was built in 1972 and has 3,000 seats plus additional bleachers and was named after W. J. Wisdom, the athletic director at TSU from 1920-1943.
From the afternoon game in Fort Worth it was a comfortable 77 miles drive South West to Stephenville. I arrived to find the arena packed and a tremendous atmosphere and this was for the women's game. Just as good when the men's game got underway. Excellent game as well and could have gone either way.
Following photos of poor quality due to camera malfunction.