International Friendly
Wednesday 10th February 2016
Kick off 20.00 Actual 20.36
Mexico 2 Senegal 0,  attendance 15,588
73′ 1-0 J. Duenas
87′ 2-0 R. Pizarro
@ Marlins Park
501, Marlins Way
Miami, FL 33126
$30 admission  + $9.50 fees, print at home ticket *
No programme.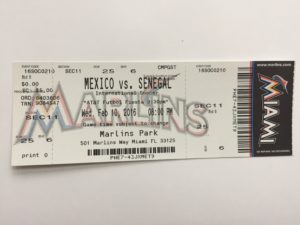 My ticket had been acquired the day they went on sale and a reasonable flight was booked at $106 return. On entering the stadium it became apparent that the top tier, where my seat was located, would not be opening, so a 'new' ticket was issued from a booth on the bottom level concourse, where it was total chaos. I was told I had been reallocated an excellent seat near the front, which yes, had it been for the Miami Marlins and a MLB game, this was correct as it was right behind the home plate. Certainly not the case for football however. With the crowd so sparse it was never going to be a problem as I just moved and sat wherever I wanted, trying out all the stands at some point.
Mexico, playing without their European based players, just about edged it although Senegal were worth a goal for their efforts.
As mentioned, this is a baseball stadium that has been home to Miami Marlins since 2012. It has a capacity of 37,442, making it the third smallest stadium in MLB.