National Association Intercollegiate Athletics
Sooner Athletic Conference
Thursday 25th February 2016
20.00 Tip off
Texas Wesleyan University Rams 73 Oklahoma City University Stars  74,  attendance 550
@ Sid W. Richardson Center
1100, South Collard Street
Fort Worth, TX 76105
$7 admission
Programme free, 4 pages.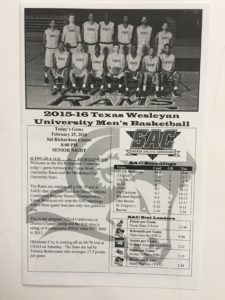 The arena was opened in 1970 and underwent major renovation over the summer of 2008. It currently seats 1,500.
This was a cracking game with an atmosphere to match. It looked like the Rams had won it  when they went ahead with 6.4 seconds left, until the Stars nicked it with just 0.8 seconds on the clock !