Dallas Cup
Gordon Jago U19 Super Group
Kick off 15.00 Actual 15.08
Sinergia Deportiva Tigres 1 Everton F.C. 0, attendance 3,000
13′ 1-0
@ Cotton Bowl Stadium
3750, Cotton Bowl Plaza
Dallas, TX 75210
$15 admission, day ticket covering 3 Cotton Bowl matches.
Programme, yes, tournament brochure at $12, so didn't bother.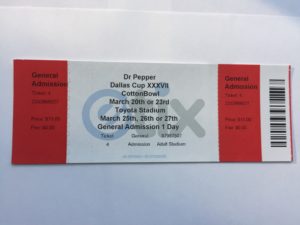 The crowd increased somewhat for this game as people slowly drifted in. A pretty dull game where Everton didn't really start to play until they were down to ten men following a straight red card after 58 minutes.
My ticket would have allowed me to stay and see the 18.30 match as well, but as the sun dropped behind the stand it became quite cool, although annoyingly the other 3 sides of the stadium were still in glorious sunshine, but they remained off limits. Also, I didn't fancy buying average food and drink at rip off prices either and perhaps the one criticism of the day was the fact that the second and third games here at the Cotton Bowl were scheduled too far apart for even the keenest football follower to endure the full day.