National Collegiate Athletic Association Division I
Big 12 Conference
Saturday 19th March 2016
First pitch 15.00
Texas Christian University Horned Frogs 7 West Virginia University Mountaineers 1,  attendance 4,364
@ Charlie & Marie Lupton Stadium and Williams-Reilly Field
3700, West Berry Street
Fort Worth, TX 76129
Free admission *
Programme free, 4 pages.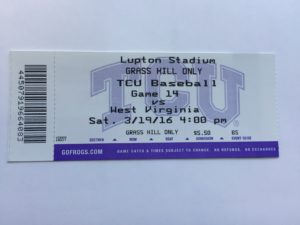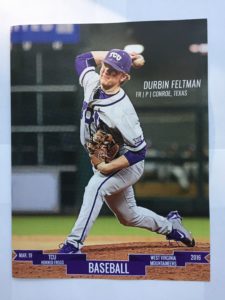 Two good bits of fortune here. Late Friday evening I noticed that it had been posted on their website that the game had been brought forward an hour from 16.00, something that caught out a fair number of latecomers. Then, whilst standing in the queue at the ticket office, I bagged one of the four tickets a fellow spectator was giving away free as members of his party were unable to attend. Despite only being for the grass banked area, once inside there were no ticket checks, so it was a case of wait and see where the empty seats were and 'take your pick'. It was also nice to park in the official car park at the stadium for free as well.
The stadium was opened in 2003 and has a seated capacity of 4,500. Despite being relatively new it has undergone renovation twice in the last three years. Crowds have steadily risen here, helped somewhat by the Horned Frogs making the College World Series in 2010, 2014 and 2015. The record crowd stands at 7,383 versus Texas A&M University Aggies during the 2015 NCAA Super Regional tournament.