North American Soccer League
Saturday 2nd April 2016
Kick off 19.00 Actual 19.28
Rayo OKC 0 F.C. Edmonton 0,  attendance 6,416
@ Miller Stadium
1777, South Yukon Parkway
Yukon, OK 73099
$10 admission
Programme free, 36 pages.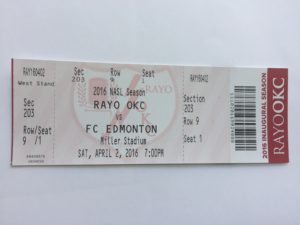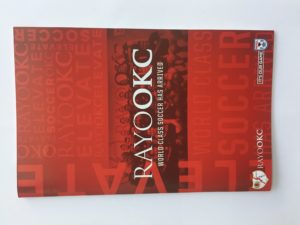 From Norman, it was a 45 minute drive for the second game of the day and debut of N.A.S.L. newcomers Rayo OKC. They have the same owners as Rayo Vallecano in Spain's La Liga, who would perhaps be better off financing them, as they regularly struggle in the top flight, rather than set up another professional club in direct competition to Oklahoma City Energy F.C. who admittedly play in the U.S.L. at level 3.
Miller Stadium is home to the Yukon High School Millers American Football team,  who also play in red and white colours, so the stadium does look more like a proper home to Rayo. A pretty good crowd in a stadium that holds 6,500, although judging by the empty spaces, either the crowd was wrong or the stadium holds more than stated. I have to say the food on offer was of very poor quality, especially the cheese burger I sampled. One bite, which was of a cold bun and barely warm burger, saw it returned to the counter where the offer of a refund was gladly accepted. The pathetic excuse offered for serving sub standard fayre was that they only have one microwave to warm the food up. Disgusting. At least the mobile catering van on the far side of the stadium was better, especially the beef tacos.
Eventually, nearly half an hour late, made worse by having to endure two National Anthems, the match finally started. It certainly wasn't worth the wait and was absolutely dire, not helped by a red card for the visitors after 30 minutes. There was a slight improvement when new signing Georgios Samaras, former Manchester City and Celtic striker, came on for the final 12 minutes and Rayo actually looked like they might nick it.