Major League Soccer
Thursday 2nd June 2016
Kick off 19.30 Actual 19.39
Los Angeles Galaxy 0 Sporting  Kansas City 0,  attendance 19,651
@ StubHub Center
18400, Avalon Boulevard
Carson, CA 90746
Admission $29.50 + $7.50 fees, Print at home ticket
Programme free, 40 pages.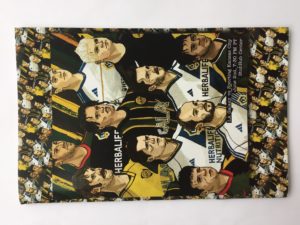 The StubHub Center was opened in 2003 and was known as the Home Depot Center until changing name to its current sponsor in 2013. It was the second 'soccer specific' stadium to open in the M.L.S. era and was also home to the now defunct Chivas USA.
I had taken a nice steady drive up from San Diego and checked in at my hotel near Los Angeles Airport, before heading the 10 miles south to Carson, getting a cheap $10 parking slot. I already knew that Robbie Keane was away on international duty, but was disappointed to find out that Steven Gerrard would also miss the match, probably already back in England, as there was a 3 week break in the M.L.S. following this round of fixtures. At least I got to see Ashley Cole !
The first thing I noticed was the club crest for the visitors used on the big screens was the old Kansas City Wizards one. Never mind, it's only 6 years since they changed their name. Secondly, I was surprised at how low the crowd was and nowhere near the 27,000 capacity, although having witnessed one of the worst matches I have ever seen, then this is little wonder. On this showing Galaxy have no chance of winning the league, either finishing top at the end of the regular season, or advancing to win the M.L.S. Cup. I asked the lad sat next to me if they were always this bad, but he was also English, on holiday over here, and unbelievably lives just 5 miles from my house back in the U.K. Small world.
After the match I headed back to drop off the hire car, ready for an early start the next morning.