United Soccer League
Western Conference
Saturday 25th June 2016
Kick off 19.00 Actual 19.13
Oklahoma City Energy F.C. 1 Vancouver Whitecaps F.C.  II 1,  attendance 4,905
26′ 0-1
45′ + 2, 1-1
@ Taft Stadium
Northwest 27th Street
Oklahoma City, OK 73107
$10 Admission
Team sheet free, single card, printed double sided.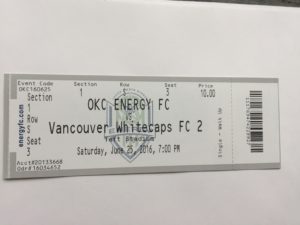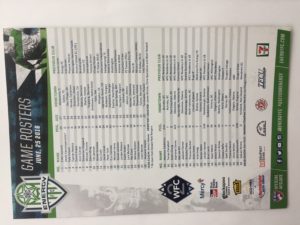 OKC Energy F.C. Joined the U.S.L. in 2014. Having previously been affiliated to Sporting Kansas City, they have this season joined with F.C. Dallas. They moved into their current home, Taft Stadium, in 2015. It was opened in 1934, but closed in 2013 whilst major renovation was carried out, reopening in 2015. Seating capacity was reduced from 18,000 down to the current 7,500, and an artificial pitch was laid, the red-stone facade being the only original feature remaining unaltered.
We did the sensible thing here and went for the cheapest tickets, the wing section of the stand that faced directly into the sun. Not a problem though, because like so many of the American 'soccer' teams, the constant bragging of selling out sections of the stadium, or even more ridiculous, the whole stadium, meant we would simply just go and sit elsewhere once inside. We opted for the best seats in the main stand, in the shade, that were selling at $30, but sparsely populated. No checks on tickets, in fact not sure if they had anyone to check anyway. And, as we rightly thought, nowhere near the crowd they were claiming and probably 3,000 at most.
Whitecaps were far better for the opening half hour, but seemed to lose their way once they went ahead. The second half tailed off dramatically, perhaps the heat had got to the players. It was unusual to have a fellow 'hopper with me for company and the 200 miles drive back south didn't feel as far as it normally would.