Friendly Match
Saturday 9th July 2016
Kick off 19.00 Actual 19.20
Club Leon 1 C.A. Monarcas Morelia 2,  attendance 6,062
45′ + 2, 0-1
81′ 1-1
85′ 1-2
@ Dell Diamond
3400, East Palm Valley Boulevard
Round Rock, TX 78664
$55  Admission +$ 1.50 fees, Print at home ticket *
No programme.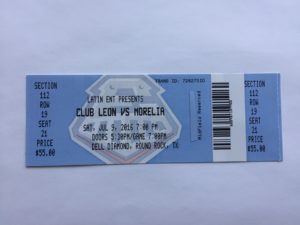 I had called in here en route to the afternoon match as it was only 8 miles out of the way. I needed to suss out the car parking options as I wouldn't have much time to spare. As it turned out it was half an hour, as despite only arriving here at 6.50pm, the game kicked off 20 minutes late.
One thing that is certainly worth a mention. The cost of printing the ticket at home was just $1.50, unlike the total rip off prices charged by most ticket agencies, especially Ticketmaster, who are one of the worst for this. When printed off, the ticket size was minute. Whilst walking round the stadium in the morning I was surprised to see the ticket office open so early, so thought I would just make sure that the ticket barcode would scan correctly. Without even asking, the girl on the desk offered to print a replacement for me, actually producing a proper ticket instead. Always nice to have a real ticket to keep as a souvenir.
As was the case this afternoon, it was another game, played in a manner not expected in a friendly. Good atmosphere too, Leon being the better supported of the two sides.
Dell Diamond is home to the Round Rock Express, the AAA M.i.L.B. team who are affiliated to the Texas Rangers of M.L.B. It was opened in April 2000 and has a capacity of 11,631.