United Soccer League
Western Conference
Tuesday 12th July 2016
Kick off 19.30 Actual 19.36
Swope Park Rangers 0 Oklahoma City Energy F.C. 2,  attendance 1,223
84′ 0-1
89′ 0-2
@ Children's Mercy Victory Field at Swope Soccer Village
6310, Lewis Road
Kansas City, MO 64132
$15 admission
Team sheet free, double sided.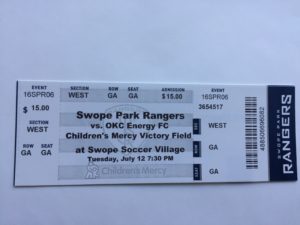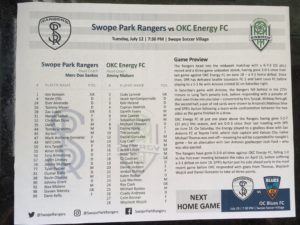 Today started off with a visit to the Fantastic Caverns near Springfield, before heading north for lunch at a Mexican restaurant then on to the Harry S Truman Dam Visitor Center. It was then a nice easy drive to the stadium.
Swope Park Rangers are an affiliate of Sporting Kansas City of the M.L.S. They were announced as the U.S.L.'s 30th franchise in October 2015.  Swope Soccer Village is a 9 pitch complex, the main pitch being the 3,557 capacity Children's Mercy Victory Field.
As for the game, it was pretty poor stuff, with the two late goals making it look better than it really was. Another one where they just make up an attendance and the more ridiculous the better, it would seem. I counted 402, so don't know where the other 800 odd were hiding.
After the match it was back to the airport to drop off the hire car which finished my stint of the driving. A shuttle to our booked hotel, before the real fun started. We arrived  just before 11pm and despite having a booking confirmation, were told we had no booking, although we had missed one 3 nights earlier. The girl on the desk said she couldn't authorise another 2 rooms for us, unless we paid again and claimed the money back. She then spent an hour and a half on her mobilephone to booking.com trying to sort it out. Finally, just after 12.30 am, we were given rooms. Not good when we had to be on the 4am shuttle back to the airport as we were all on the first flights of the day, me to Dallas, the other three to La Guardia.