Minor League Baseball
Class- A
Midwest League
Thursday 28th July 2016
First pitch 19.05
Fort Wayne TinCaps 3 West Michigan Whitecaps 1,  attendance 8,497
@ Parkview Field
1301, Ewing Street
Fort Wayne, IN 46802
$10 Admission
Programme free, 72 pages.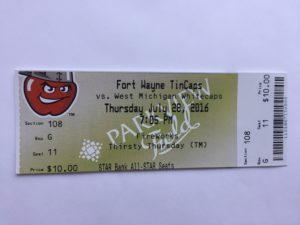 It was a 160 mile drive northwest into Indiana for tonight's game. Parking was across the road from the stadium for $5, so ticket purchased and into the ground within 5 minutes of arrival. First pitch was delayed until 7.25 pm after a very brief rain shower just as we were scheduled to start.
The TinCaps are affiliated to M.L.B.team the San Diego Padres. Home since 2009 is Parkview Field, an 8,100 capacity ballpark with 6,516 seats.