Major League Baseball
Friday 29th July 2016
First pitch 19.10
Detroit Tigers 14 Houston Astros 6,  attendance 31,771
@ Comerica Park
2100, Woodward Avenue
Detroit, MI 48201
$21.50 Admission
Programme available, didn't bother.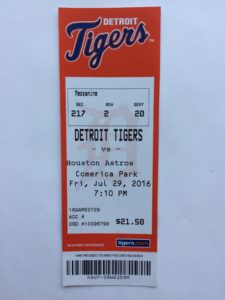 I had made the 162 mile drive northeast to Detroit by early afternoon, but didn't want to commit to buying a ticket too early, as thunderstorms were forecast until around an hour into the game. I phoned the stadium around 4pm, following a pretty wild thunderstorm, to make sure tickets were available at the ticket office, which they were, So I was able to delay my decision until around 6pm. No more rain arrived, although the skies were very grey, so it was game on. I parked in the nearest of the cheap car parks ($20) which was a  four block walk to the stadium, passing the construction site of the new Detroit Red Wings N.H.L. arena, which is due to open next year.
Comerica Park opened in April 2000, replacing Tiger Stadium. Capacity is 41,297, with the record attendance being 45,280, set in July 2008 for the visit of Chicago White Sox.