Major League Baseball
Sunday 10th July 2016
First pitch 13.15
Kansas City Royals 5 Seattle Mariners 8,  attendance 27,544
@ Kauffman Stadium
1, Royal Way
Kansas City, MO 64129
$23 Admission
Programme available, didn't bother.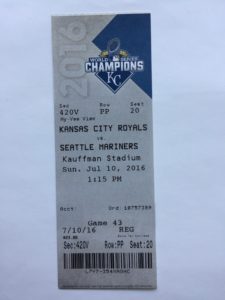 After a late finish,then a diversion off the I-35 north of Waco , had meant I hadn't arrived home from my match at Round Rock last night until just before 1am. I was up early and on a 7am flight to Kansas City, meeting up with 3 mates who had flown in the previous evening for a few days in Kansas and Missouri States tagged on to some holiday around New York. As arranged, I had taken a bus from the airport to meet them at the Car Hire centre and they duly arrived on time for the 9am meet.
Today, we would be doing a double of baseball and 'soccer'. Both games would be involving teams with Kansas in their names, but despite both being from the same city, it is one that is split between two different states, Missouri and Kansas. We would start off in the former, at the home of the current World Series Champions. We had decided to leave buying tickets until the day of the game, as weather could be a problem and none of us would be around for any rearranged date if there was a late postponement. As it turned out, it was absolutely glorious, so we arrived at the stadium, paid our $20 parking and drove down to purchase our tickets. Once done, as we had been instructed, we were refunded the parking fee on exit, then headed for some food, before arriving back about an hour before the start.
Kauffman Stadium was opened in 1973 and was known as Royals Stadium until 1993,  when it changed its name in honour of the Royals founding owner Ewing Kauffman. Together with the adjacent Arrowhead Stadium, home to the N.F.L. 's Kansas City Chiefs, it is part of the Truman Sports Complex. It is the sixth oldest stadium in M.L.B. although it underwent a $250 million renovation between 2007 and 2009. Capacity these days is 37,903, but a crowd of 41,860 witnessed the visit of the New York Yankees in July 1980.