United Soccer League
Western Conference
Wednesday 21st September 2016
Kick off 19.30 Actual 19.33
Tulsa Roughnecks F.C. 1 Swope Park Rangers 3,  attendance 2,449
5′ 0-1
9′ 0-2
19′ 1-2 (pen)
27′ 1-3
@ ONEOK Field
201, North Elgin Avenue
Tulsa, OK 74120
$10 Admission
Programme free, 20 pages.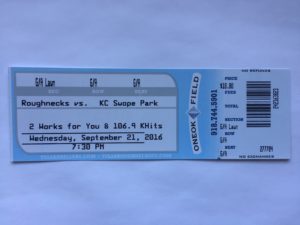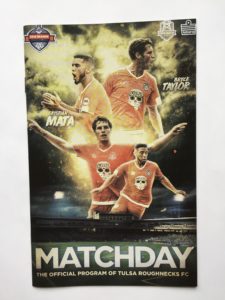 So, I finally got to see a Tulsa Roughnecks home game. This was the rearranged date for the ridiculously postponed match that I had a wasted 500 mile wasted trip for back on 6th August. I had already missed two more opportunities of coming here since the farce of that game, as they hosted Rio Grande Valley F.C. Toros on Thursday 18th August and then Oklahoma City Energy F.C. two days later. Both times I made a phone call to the club, but on each occasion there was a recorded message stating that a decision on whether the match was going ahead, which both did, would be made nearer kick off time. No help whatsoever to me, or even any visiting fans, if there were indeed any likely to travel. Even today I had to risk it being on. I had once again phoned the club, this time miraculously having my call answered. I was told by the girl that the game was in no doubt of going ahead as " it's a lovely sunny day and 90 degrees". Somehow I just didn't trust this as it was cooler than the day they called the game off for waterlogging, so I set off more in hope than expectation.
The current Roughnecks are not the same club that played in the North American Soccer League from 1978 until the league folded in 1984. The new franchise were formed in 2014, adopting the name Roughnecks in homage to the original club. They play at ONEOK Field, a 7,833 capacity stadium, opened in 2010, which is home to theTulsa Drillers Minor League Baseball team.
Roughnecks are currently bottom of the league and on this showing it is hard to imagine how they could be anything but. They were an absolute shambles and SPR just did what they had to, gaining an easy three points in their quest to make the end of season play offs. This has to be one of the most laughable official attendances. I would have said there were less than 400 here, as photos of the stands clearly show.