National Hockey League
Western Conference
Thursday 13th October 2016
Face Off 19.30 Actual 19.44
Dallas Stars 4 Anaheim Ducks 2,  attendance 18,532
03.40/1st 1-0 Stephen Johns
14.09/1st 1-1 Andrew Cogliano
02.43/2nd 2-1 Lauri Korpikoski
01.01/3rd 2-2 Andrew Cogliano
01.23/3rd 3-2 Antoine Roussel
14.09/3rd 4-2 Adam Cracknell
@ American Airlines Center
2500, Victory Avenue
Dallas, TX 75219
Admission $202* Parking $40*
Programme free, 100 pages.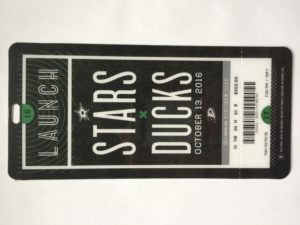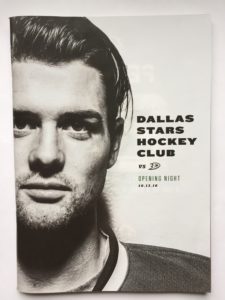 * Face value of two tickets, plus parking , was $444. However, as the tickets were purchased in a corporate charity auction, including parking less than 100 yards from the arena, we picked them up for a total of just $105 !
The seats were just 6 rows from the front, just offset from the halfway line. I had only ever watched ice hockey on television up until now and found it much harder to follow the action here, especially when the puck was along the near side of the ice as there are huge blind spots due to the fences and player benches.
I had been to the American Airlines Center previously, having seen Dallas Mavericks versus Atlanta Hawks in the N.B.A. (9th December, see Basketball  Section) so knew what to expect. The main difference, due to the configuration of ice hockey, is that capacity is lower, being  18,532. Most, if not all, Stars games are played to a full house and tonight's sell out for the season opener certainly backs that up.
The Dallas Stars moved to Dallas in 1993, having previously been the Minnesota North Stars franchise from 1967, based in Bloomington, MN, until the move. By the 1978-79 N.H.L. season the team had merged with the Cleveland Barons as they were both struggling financially. The move to Dallas saw them based at Reunion Arena, before moving less than 1.5 miles to the AAC in 2001.