National Association Intercollegiate Athletics
Red River Athletic Conference
Saturday 17th December 2016
Tip Off 19.30
Wiley College Wildcats 82 Huston-Tillotson University Rams 75,  attendance 85
@ Alumni Gymnasium
711, Wiley Avenue
Marshall, TX 75670
$10 Admission
No programme.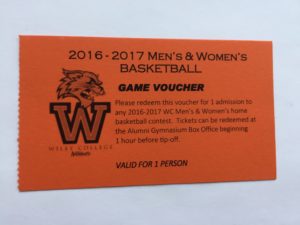 It had only taken 25 minutes to cross back into Texas and around another 20 minutes more to reach Marshall. With Wiley College being only three of four miles off route it would save me just over 300 miles by doing them as I was passing by, rather than make a special journey in the future.
Wiley stretched their winning streak to 8 games with this. A halftime lead of 47-31 looked like it was pretty plain sailing, but a late rally by the Rams made it interesting. It was 70-69 with 2 minutes 11 seconds left, but a couple of two pointers took it back to 74-69 with 1 minute 26 seconds left.
One thing to note here was the extortionate admission price for this level, although the ticket could be exchanged for admission to a future game, which is not much use if you don't live in Marshall.