National Collegiate Athletic Association Division I
Big 12 Conference
Wednesday 4th January 2017
Tip Off 19.00
University Texas Longhorns 82 Oklahoma State University Cowboys 79,  attendance 9,753
@ Frank Erwin Center
1701, Red River Street
Austin, TX 78701
$6 Admission
Team sheet, free
Season Guide, free, 92 pages.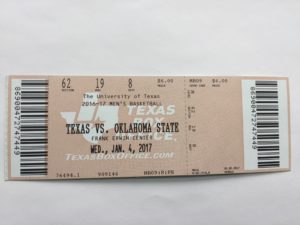 Longhorns hung on for the win having led by 11 points early in the second half. A good result against a team with a better winning record so far this season. Tevin Mack top scored with 27 pts for the Longhorns, with Jeffrey Carroll posting 24 pts for the Cowboys.
Excellent pricing for this game as well, which was the same for all the games over the festive period. I was very surprised at the number of ticket touts trying to drum up business outside the arena. Just exactly what trade do they expect with 8,000 empty seats and half the available tickets only costing $6.
Yet again it was possible to buy the cheapest ticket and move to a better seat once everything settled down, although, unlike some of the ridiculously exaggerated attendances given out, this was pretty close to genuine, so more concentration required to spot the seats that were going to remain empty. Also, with the arena holding so many, there was no need to pre book either, which saves on a booking fee. Parking was $10 and just a 7 minute walk away and only two sets of traffic lights to negotiate before rejoining the I-35 back north for the all too familiar three hour drive.
The Frank Erwin Center (Frank C. Erwin Jr. Center, to give it its full name) was opened in November 1977, undergoing expansion and renovation between 2001 and 2003, giving it a seated capacity of 16,540.