National Basketball Association
Wednesday 11th January 2017
Tip Off 19.00
Oklahoma City Thunder 103 Memphis Grizzlies 95,  attendance 18,203
Thunder Starters ;
Andre Roberson, 8 pts, 8 reb, 1 blk
Domantas Sabonis, 0 pts, 2 reb, 1 ast, 1 blk
Steven Adams, 12 pts, 8 reb, 1 ast, 1 stl, 2 blk
Victor Oladipo, 16 pts, 3 reb, 2 ast
Russell Westbrook, 24 pts, 13 reb, 12 ast, 2 stl, 1 blk
Playing Reserves ;
Enes Kanter, Alex Abrines, Jerami Grant, Cameron Payne, Nick Collison, Joffrey Lauvergne
Grizzlies Starters ;
Chandler Parsons, 14 pts, 1 stl
JaMychal Green, 4 pts,10 reb, 1 ast, 1 stl, 1 blk
Marc Gasol, 9. Pts, 7 reb, 2 stl, 2 blk
Tony Allen, 2 pts, 2 reb, 2 ast, 1 stl
Mike Conley, 22 pts, 4 reb, 6 ast, 3 stl
Playing Reserves ;
Zach Randolph, Vince Carter, Andrew Harrison, James Ennis III, Troy Daniels
@ Chesapeake Energy Arena
100, West Reno Avenue
Oklahoma City, OK 73102
Admission $43 + $11.50 fees, Resale, Print at Home ticket
Programme free, 32 pages.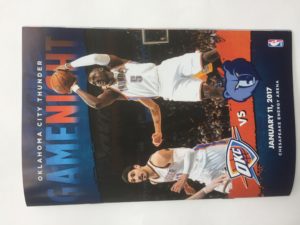 The Chesapeake Energy Arena was opened in 2002, known as the Ford Center until 2010, before one year as Oklahoma City Arena, then taking on the name of the current sponsor. From 2005-2007 it played host to the New Orleans Hornets NBA team as damage caused by Huricane Katrina prevented them from playing in their own city. In 2008, the Seattle SuperSonics franchise was moved to Oklahoma City and the Thunder have played here since then.
The arena is very easy to reach from Dallas, albeit a three hour drive north on I-35, then one  junction west along I-40 and the arena is clearly visible on the right hand side. I parked in the first car park as i exited the highway, for a bargain $7, and from here it was maybe 7-8 minutes walk. Plenty of eateries less than ten minutes walk from the arena, although the food inside looked ok, so it wouldn't have been a problem if this had been a last resort. It also made a change to visit a large city where there were not groups of low life's on every corner. Despite the attendance being given as an 18,203 sell out, there were plenty of empty seats and i had one to my left and four to my right that were free and i think that there were probably only around 16,500-17,000 actually here. Despite being on the top tier, the view was really good, and it was still possible to make out who all the players were without the use of the overhead screens. The oddest thing concerning the actual buying of tickets for Thunder matches, is that they will not sell to anyone with a Texas address. There is no problem buying from resale ticket outlets however. This has to be one of the most stupid marketing ploys, especially as the NBA is supposed to be a global brand.
Both teams look good bets to make the end of season play offs. Russell Westbrook was once again outstanding for the Thunder, notching up his 18th Triple-Double of the season. It is not hard to see how, along with James Harden at Houston Rockets, he is widely tipped to be named MVP this season in the NBA.
Another statistical milestone tonight saw Vince Carter come off the bench for the Grizzlies to shoot three 3-pointers, taking him above Jason Kidd on the all-time 3 point scorers list in the NBA. He now stands 5th, on 1,989.