National Basketball Association
Thursday 19th January 2017
Tip Off 19.30
San Antonio Spurs 118 Denver Nuggets 104,  attendance 18,418
Spurs Starters ;
Kawhi Leonard, 34 pts, 5 reb, 4 ast, 2 stl, 4 blk
LaMarcus Aldridge, 10 pts, 3 reb, 6 ast, 1 blk
David Lee, 10 pts, 16 reb, 2 ast, 1 stl, 1 blk
Danny Green, 5 pts, 1 reb, 4 ast, 2 stl
Dejounte Murray, 24 pts, 2 reb, 2 ast, 1 stl
Playing Reserves ;
Manu Ginobili, Dewayne Dedmon, Jonathon Simmons, Patty Mills, Davis Bertans
Nuggets Starters ;
Juan Hernangomez, 8 pts, 6 reb, 1 ast, 1 stl, 1 blk
Kenneth Faried, 5 pts, 9 reb, 1 ast
Nikola Jokic, 35 pts, 12 reb, 4 ast, 2 blk
Will Barton, 18 pts, 3 reb, 7 ast, 2 blk
Emmanuel Mudiay, 12 pts, 1 reb, 2 ast, 2 stl
Playing Reserves ;
Jameer Nelson, Jusuf Nurkic, Jamal Murray, Mike Miller
@ AT&T Center
1, AT&T Center Parkway
San Antonio, TX 78219
Admission $65 + $19.10 fees
No programme.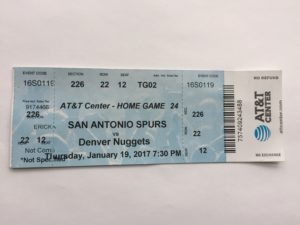 The AT&T Center was opened in October 2002, at a cost of $186 million and was originally known as the SBC Center, taking on its current sponsor name in 2006. Capacity here is 18,418, which according to tonight's attendance figure was full, although this is nowhere near the case as there were loads of empty seats.
Spurs have reached the Play Offs in 24 out of the last 25 seasons and will easily qualify again this time round. They currently sit second in the Western Conference, behind Golden State Warriors, with a 33-9 win record. The visiting Nuggets sit in the last qualifying position of eighth.
In the end it was pretty comfortable for Spurs, although the Nuggets were never out of it, thanks mainly to a superb 35 points from Jokic. Spurs were once again led brilliantly by Kawhi Leonard, netting 34 points, who was yesterday named as a starter for the upcoming NBA All-Star game. Dejounte Murray weighed in with a season-high 24 points. Spurs are certainly a team who know how to get the job done and are very hard to beat. The only downer for them tonight was when coach Gregg Popovich was sent from the bench after entering the court to berate one of the officials after he disagreed with a decision against them. Certainly a man who shows passion for his team.
The 282 mile journey down from Dallas had taken five hours, including a stop, so i was glad that i was staying over, rather than driving straight back after the game. I had booked into a hotel that was 12-13 minutes walk from the arena, so didn't have to worry about parking the car, although for once it wouldn't have been too bad, as across the road from the arena, in the car park of a small office unit, it was only $10 and even on the main car parks it looked to only be $15.