National Association Intercollegiate Athletics
Red River Athletic Conference
Saturday 21st January 2017
Tip Off 19.30
Paul Quinn College Tigers 71 Langston University Lions 76,  attendance 300
@ 3837, Simpson Stuart Street
Dallas, TX 75241
$5 Admission
Team Sheet free, printed double sided.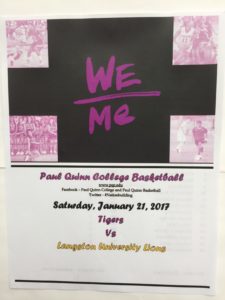 It was an easy 59 mile drive from this afternoons match and being such a small detour from my route home made it a perfect double.
Again, a close match and not decided until the last few seconds, with the game tied three times and the lead changed six times. Langston, from Oklahoma, are fourth in the RRAC table, whilst Paul Quinn are not eligible for the postseason play offs, but do play all the fixtures as if they were. Jalen Johnson top scored for PQC with 20 points, the visitors led by Myles Eglin with 16 points.
The first thing to be said about this venue is what a great atmosphere it generates. Singing, chanting and dancing in the aisles was non stop, with a group of around 20-30 being very well versed in their routines. They would certainly give the cheerleaders a run for their money at most venues, although here they added to the entertainment from the official dancers at courtside.