National Junior College Athletic Association
Division I
Region 14 Conference
Monday 23rd January 2017
Tip Off 19.00
Kilgore College Rangers 68 Blinn College Buccaneers 70,  attendance 180
@ Masters Gymnasium
1100, Broadway Boulevard
Kilgore, TX 75662
$5 Admission
Programme free, 4 pages.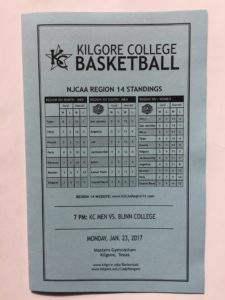 This one was always going to be close. Both teams had a record for the season of 11-6, with conference games being 2-5. It was 33-33 at halftime and at no time in the game was there a greater margin than 5 points. With 3.2 seconds left It was 68-69 and Blinn were at the free throw line. After successfully getting the first throw a timeout was called. The second throw was then missed, but despite Kilgore getting the rebound, the pass was thrown out of bounds and that was it.
There was certainly an International feel to the Kilgore squad. One from England, one from France and three from Senegal. The latter supplied their undoubted star of the show, 6′ 10″ forward Ndene Gueye. He put in an excellent display and certainly didn't deserve to end up on the losing side. 30 points, 14 rebounds and 2 blocks are great figures at any level. James Harrison top scored for the visitors with 16 points.