National Collegiate Athletic Association Division II
Great American Conference
Thursday 26th January 2017
Tip Off 19.30
East Central University Tigers 100 University Arkansas-Monticello Boll Weevils 98,  attendance 724
@ Kerr Activities Center
1100, East 14th Street
Ada, OK 74820
$8 Admission
$1 Programme, 8 pages, double issue including Saturday 28th January.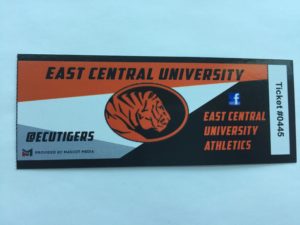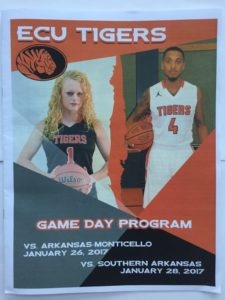 This was 2nd v 1st in the Great American Conference, with the visitors ranked Number 18 nationally.
Tigers were led by Braxton  Reeves who scored 32 points and four assists. The Boll Weevils looked to be well in control, going up 2-13 early on, but Tigers had levelled it up to go in all square at halftime 52-52.
Tigers edged ahead and held the lead until the Boll Weevils tied it up at 91-91 with 3 minutes 45 seconds to play. Tigers ahead again by 96-91, but the lead cut back to 98-96 with a minute to play. Reeves then scored two crucial free throws with 7.8 seconds left, before the visitors scored again with the last shot of the match.