Combined Counties League
Premier Division
Monday 20th February 2017
Kick Off 19.45 Actual 19.46
Abbey Rangers 0 Epsom & Ewell 1,  attendance 70
55′ 0-1
@ Addlestone Moor
Addlestone
KT15 2QH
£7 Admission, including programme, 24 pages.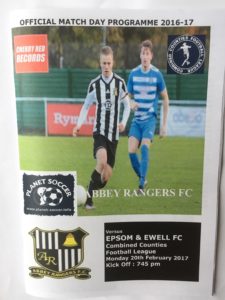 This was my second visit here, the first being on January 2nd 2012, when the game was played on a pitch that runs lengthways beyond the far end from the clubhouse. What was just a pitch you walked past to reach the old 'ground', is now railed off, floodlit and has two bits of cover, one being a small seated stand. According to the programme, hard standing will be completed along the side of the pitch opposite the dugouts, and a new 50 seat stand will be in place during March. I hope they give more consideration to the placement of the new stand than they gave when positioning the current one.
As for the game…..certainly not the best I have seen this season. The visitors deserved the win though, as they created much more in the areas where it mattered.
Tonights visit completes both the top division and Combined Counties League overall.