Northern Counties East League
Division 1
Tuesday 21st February 2017
Kick Off 19.45 Actual 19.48
Hall Road Rangers 3 Eccleshill United 1,  attendance 76
30′ 1-0
35′ 1-1
68′ 2-1
85′ 3-1
@ Harworth Park
Dawson Drive
Kingston upon Hull
HU6 7AB
£5 Admission
£1.50p Programme, 24 pages.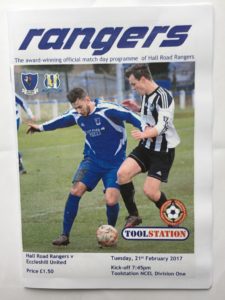 Unlike Bilborough Town last week, Hall Road have someone reliable doing their club Twitter account. A tweet very early on showed the pitch to be in superb condition and a conversation with the very helpful club Secretary, just after 12 o'clock,  meant I would soon be off on the 4 hour journey to Humberside.
Thankfully, the rain that fell here was very light, so no problem of the game being on, as it is certainly a pitch that has suffered from a fair amount of postponements since the club moved here from their old ground in Dunswell.
A strong wind blowing down the pitch certainly helped Hall Road in the first half, as they played with it at their backs, going ahead after almost constant pressure from the start. A quick reply saw the visitors back on level terms, which remained the case until they had a man sent off on 67 minutes, before going behind a minute later, which was basically game over.
Journey home saw numerous lane closures on the M1 and what seemed like endless sections of 50mph restrictions. Just to round the night off, the exit from the M1 onto the M25 was closed, but at least the diversion around the top end of Watford was pretty much traffic free.
Second successive night of completing both a division and league.