National League North
Wednesday 1st March 2017
Kick Off 19.45 Actual 19.48
Darlington 3 Altrincham 1,  attendance 1,423
3′ 1-0
29′ 2-0
33′ 2-1
80′ 3-1 (pen)
@ Blackwell Meadows
Grange Road
Darlington
DL1 5NR
£12 Admission
£2.50 Programme (from original postponed fixture on 11th February) 56 pages, plus 4 page insert.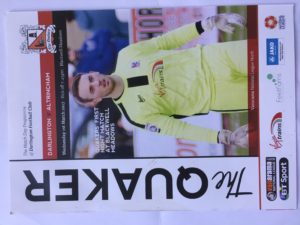 Having arrived in plenty of time from Leeds, it was easy to get a prime parking spot in the nearest road to the stadium, although it is still a good 10 minutes walk away. The main objective here, apart from avoiding the £3 car park charge, is the fact that all cars are held back until all pedestrians have cleared from the driveway leading to the ground from the main road, so even by walking back to the car, you can still be away onto the A1 before the cars are released from the car park.
Darlington still think they are a Football League club, judging by the prices charged for everything, although of course the club disappeared in 2012, and were reformed, joining the Northern League the following season, under the name Darlington 1883. No mention anywhere of the 1883 part of the name in the programme or on their badge, so I assume they have now dropped this from their title ?
I had seen the original club play in the Football League at two different home grounds, Feethams (22.4.1989 v Scarborough, 2-1, Division 4, attendance 2,850) and then Reynolds Arena (30.9.2003 v Southend United, 0-0, Division 3, attendance 4,369) which was when their problems really began in a stadium that had nearly 20,000 seats more than they were ever going to need.
The current ground, shared with Darlington Rugby Union Club, is not a good venue for viewing the game. It is totally inadequate for large crowds, tonight's being their lowest since moving here on Boxing Day 2016, when they sold out the ground to its 3,000 capacity. Even only half full the view was awful, so it must have been impossible for most people to have seen anything at all with more than double tonights attendance rammed in.
A very poor standard of football on show for the second level of the English non-league game, perhaps not helped by Altrincham being bottom of the table, where it is a matter of when, not if, they are relegated. Darlington didn't really need to be very good to beat them.
This just leaves one more to do at Step 2 and one that I am really not looking forward to at all…..F.C. United of Manchester. I can't wait………