Western League
Premier Division
Monday 6th March 2017
Kick Off 19.30 Actual 19.34
Melksham Town 2 Bristol Manor Farm 1,  attendance 485
20′ 1-0
63′ 2-0
89′ 2-1
@ Oakfield Stadium
Eastern Way
Melksham
SN12 7GU
£6 Admission
£1 Programme, 28 pages.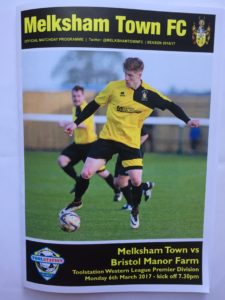 So, tonight saw the first midweek fixture played at the new home of Melksham Town, the match being 4th v 1st in the league table. It also meant the club was invaded by Groundhoppers, with close on 50 making the trip to Wiltshire. A very impressive set up that has a number of other pitches, including a second floodlit pitch, used by their reserves, which is to the right of the driveway leading to the main ground. The clubhouse is shared with Melksham Rugby Club, whose pitch runs parallel to the main ground, separated by the two storey building. Good selection of food on offer and very nice home made cakes available at the tea bar.
No problems pitch wise, despite the rain over the weekend, apart from one corner of the pitch where the drainage has collapsed. Melksham were missing a number of players tonight, but it didn't really show. They were already 2-0 up when BMF had a player red carded on 71 minutes and despite the 10  men pulling one back, it was never going to affect the final outcome.
This once again completes the Western League grounds and brings the required number left to visit at Step 5 down to three, namely Fisher, Leicester Nirvana and Royal Wootton Bassett Town.