Northern Premier League
Division 1 South
Tuesday 21st March 2017
Kick Off 19.45 Actual 19.51
Shaw Lane A.F.C. 4 Loughborough Dynamo 0,  attendance 145
4′ 1-0
12′ 2-0
25′ 3-0
31′ 4-0
@ Shaw Lane
Barnsley
S70 6HZ
£6 Admission
£1.50 Programme, 20 pages.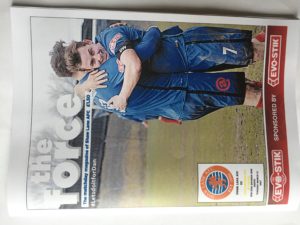 Well, this went with the formbook, as the league leaders made short work of the second from bottom visitors. It was game over as soon as the second goal went in and the game went rapidly downhill from there. The second half was as bad a game as you could possibly see. Utter garbage.
Shaw Lane are not a very nice bunch. Constant whinging and moaning throughout. If they are like that when they win almost every game, then they will be unbearable when they meet better sides who will beat them regularly as they climb the pyramid.
There was also one of their 'supporters' who really let the club down with his behaviour. Stood next to the home dugout, beer can in hand, constantly shouting obscenities for the whole ground to hear, then directing homophobic shouts at the Dynamo 'keeper who was receiving treatment to an injury received in an obvious foul. When challenged to keep his comments to himself, by an away supporter, he then threatened him and said he would wait for him in the car park afterwards and 'stab him up'. What a great advert he is for the club !
The only bright spot from the evening is that this completes visits to all of the current Step 4 grounds.