West Midlands (Regional) League
Division 1
Saturday 8th April 2017
Kick Off 15.00 Actual 15.02
Darlaston Town (1874) 2 St. Martins 0,  attendance 70
38′ 1-0
90′ + 4, 2-0
@ The Paycare Ground
Bentley Leisure Pavilion
Bentley Road North
WS2 0EA
£3 Admission
£1 Programme, 24 pages (3 were blank)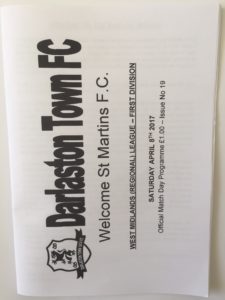 So, a second successive Saturday visiting a ground in the West Midlands (Regional) League Division 1, this time for a league fixture, which was seventh versus tenth in the table. It was the last home game of the season for Darlaston, although they do have three away matches left.
This must be one of the most expensive places to watch football at this level, being double the price paid at Old Wulfrunians last week, although buying a programme is not compulsory.
Another even match, played in the unusually warm April temperature of 22 degrees. Darlaston looked like winning it by the only goal of the game, having  missed a penalty a couple of minutes from the end, saved by the St. Martins number 9, who had replaced the injured 'keeper with ten minutes remaining, but did get the second goal with the last kick of the match.