Gloucestershire County League
Saturday 15th April 2017
Kick Off 15.00 Actual 14.59
AEK-Boco 5 Lebeq United 0,  attendance 102
7′ 1-0
8′ 2-0
16′ 3-0
63′ 4-0
87′ 5-0
@ True Clarity Pavilion
Greenbank Road
Hanham
BS15 3RZ
No Admission
£1 Programme, 20 pages.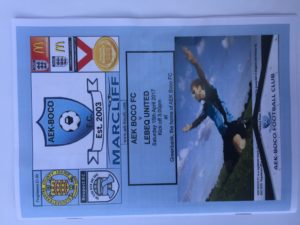 A rather typical end of season mid table match as twelfth entertained seventh in the league table. This was the final game of the season for Lebeq, this defeat dropping them two places in the table, whilst AEK-Boco still have five league matches, plus a cup final, to play.
A blistering start meant it was game over a quarter of an hour in, and a straight red card five minutes from time simply rounded off a bad day for the visitors.