Eastern Counties League
Division 1
Monday 17th April 2017
Kick Off 15.00 Actual 14.59
Haverhill Borough 13 Leiston Reserves 0,  attendance 143
19′ 1-0
35′ 2-0
43′ 3-0
49′ 4-0
53′ 5-0
57′ 6-0
59′ 7-0
77′ 8-0 (pen)
78′ 9-0
80′ 10-0
84′ 11-0
90′ 12-0
90′ + 3, 13-0
@ The New Croft 3G Pitch
Chalkstone Way
CB9 0BW
£5 Admission
£1 Programme, 32 pages.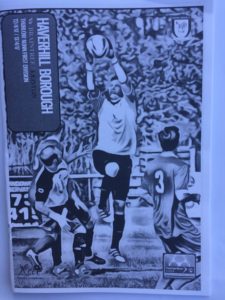 I normally save grounds with floodlights for midweek night matches, but with very little in the way of double opportunities today, I decided to do it with a little diversion on the way home from Norfolk. It was also handy in saving another £5 in toll charges on the Dartford Crossing, although I would probably return outside the hours of the 'congestion' charge if I had done this ground for an evening kick off, but a saving nevertheless.
If ever there was proof needed that reserve teams should not play in the same league as proper first teams, then this was it. Leiston turned up with just the bare eleven players and had no one at all on the bench…..including a manager or coach !
With Haverhill second in the league and Leiston bottom, then it was no surprise that it was a home win, but the performance, or lack of, put in by Leiston, was pathetic.  They even had a man red carded on 86 minutes for punching a Borough player. Perhaps they needed to show a bit more 'fight' in other areas. The win means the hosts have finished in a promotion position, although they will probably have to upgrade the ground to achieve this, unless they move onto the main stadium instead, as they play a fair number of games on there already, despite the 3G being their supposed home venue. It's a pity they are allowed to play on a 'ground' as poor as this and worse still, at a higher level next season. It just doesn't seem right that a team can play at Step 5/6 of the non league level on a pitch that has other markings in various colours on it.
The programme today was a double issue with their match versus Braintree Town Reserves on 12th April, although apart from the front cover and a squad list on the back cover, Braintree are not mentioned anywhere else, whereas Leiston are covered over 2 pages of text, but this is all about their first team, with a single paragraph at the end being the only mention of the reserves.
I used to enjoy visiting grounds in the Eastern Counties League, but that was before the introduction of the reserve teams that have blighted so many leagues these days. Thankfully, this completes visits to the current crop.