Belgium
Liege Provincial 1
Sunday 23rd April 2017
Kick Off 15.00 Actual 15.02
A.C. Milanello Milmort 2 R.S.C. Beaufays 0,  attendance 106
69′ 1-0
76′ 2-0
@ Rue de L 'Escousett, 91
4040 Milmort
€7 Admission
Team Sheet, free.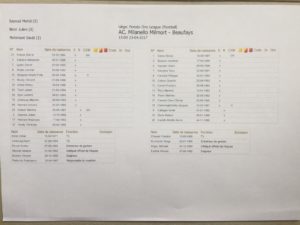 This was 9th v 5th, with no bearing on promotion or relegation issues, but was the chosen game as it was rumoured that Milanello would be dropping out of the league at the end of the current season, a fact that was confirmed by the home club officials. They do have one more game to play, but this was to be the last home match.
The match itself was pretty poor. Neither side looked liked they would ever score, especially after Beaufays had a penalty saved after 61 minutes, before the hosts somehow managed to edge in front shortly afterwards.
The ground was the original home of R. Milmort F.C. who went bust in 2010. It lay idle until 2013, when Milanello moved in, under their previous name of A.C. Milanello Herstal, before changing to the Milmort suffix a couple of years later.
Milmort, just to the north of Liege, is 190 miles from the Tunnel, and despite Passport Control doing their best to delay everyone, with a queue of over half an hour,  we still made our scheduled 2036 return on time.