Anglian Combination
Premier Division
Monday 17th April 2017
Kick Off 11.00 Actual 11.02
Spixworth 1 St. Andrews 3,  attendance 97
28′ 0-1
52′ 1-1
61′ 1-2
72′ 1-3
@ Village Hall
Crostwick Lane
Spixworth
NR10 3NQ
£2 Admission, including Programme, 20 pages.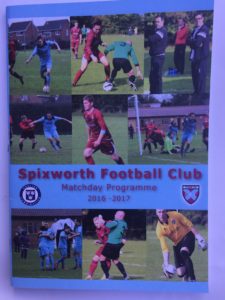 This was 1st v 9th and a real surprise result, although fully deserved. The last fifteen minutes was played mainly in the St. Andrews half of the pitch, but they stood firm and even had to endure almost nine minutes of stoppage time as well.
Spixworth came into this having won 25 of their 26 league matches, the other game being a 1-1 draw at home to Acle United. Despite this superb record, they can still be overhauled by Harleston Town, who are 8 points behind, but with two games in hand and they too have only lost once this season, 2-0 at Spixworth. The return fixture is the last game of the season, so if both teams continue to win their remaining games, they will go into the final game separated by just 2 points !