Belgium
U.E.F.A. Europa League Play Off
Group A
Tuesday 16th May 2017
Kick Off 20.30. On Time
K.V.R.S. Waasland-S.K. Beveren 1 R. Standard Liege 3,  attendance 1,961
32′ 0-1  R. Edmond
35′ 0-2  R. Mmaee
37′ 1-2  Z. Gano
51′ 1-3  Edmilson Junior
@ Freethiel Stadion
Stadionplein 1
9120 Beveren-Waas
€20 Admission
Monthly Magazine, free, 36 pages
Team Sheet, free.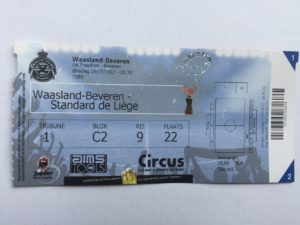 The Europa League play offs in Belgium are contested with two groups of six teams, playing each other home and away, with the two group winners playing off for the final qualification place. Tonight's game, which was 14th v 7th from the regular season, saw the visitors already eliminated, but Waasland- Beveren could still qualify, but would have to win this game to still have a chance of progressing. In the end it wouldn't have made any difference, as group leaders K. Sint-Truidense V.V.  won 1-3 away, leaving them as almost certain to go through due to their superior goal difference over second placed K.V. Mechelen, who are three points behind, with just one game to play.
The current Waasland- Beveren club took its name in 2010, following the merger of K.V. Red Star Waasland with K.S.K. Beveren, the latter having the more illustrious past, having been champions of Belgium in 1978/79 and 1983/84 seasons, as well as winning the Belgian Cup in 1978 and 1983.
The merger saw the new club retain the matricule of Red Star, but use the Freethiel Stadion of Beveren, as it was the larger stadium, having a capacity of 13,290. With the open terrace at one end permanently closed and the visitors section behind the other goal now being seated, the capacity is probably under 10,000 these days.
The journey out was out on the 1420 Tunnel, with the return having to be via the 0122 due to the late finishing time of the match, but at least it meant the return cost of just £53. As there were four of us on the trip it meant, including fuel, it was only £21 each !
This is also the first time I have completed a division, at any level, in Belgium, although I have done Division 1B, but only by 'default' as I had already visited the eight grounds used by the clubs when the new division was formed at the start of the season.