Belgium
West Vlaanderen Provincial 2A Eindronde
Promotion Play Off Semi Final 2nd Leg
Thursday 25th May 2017
Kick Off 15.00 Actual 15.02
K. Excelsior Zedelgem 3 K.F.C. Varsenare 2 (3-3 aggregate, Varsenare win on away goals),  attendance 203
17′ 1-0
50′ 2-0
60′ 3-0
63′ 3-1(og)
77′ 3-2
@ Stadionlaan 48
De Groene Meersen
8210 Zedelgem
€6 Admission
Team Sheet, free.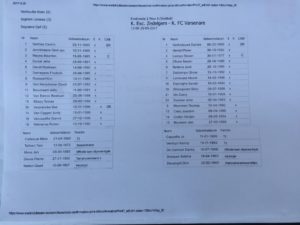 Having stayed overnight in Dadizele, it was not much more than half an hours drive east to Zedelgem. With it being a public holiday in Belgium today, it meant a choice of three matches which were 15.00 kick offs. We plumped for the highest level match of the three, where the visitors would start the game leading 1-0 from the first leg.
When Zedelgem went 3-0 up, it looked like job done, but a goal just three minutes later for Varsenare meant the tie was still in the balance. When they pulled it back to 3-2, it was a case of them holding what they had, therefore taking the tie on 'away goals'
Having suffered a 22 minute delay on the outbound journey on the tunnel yesterday, it was more of the same on the way home. We were booked on the 19.20 crossing, covering ourselves in case our match went to extra time, but it was total chaos as we arrived back in Calais and we eventually departed at 20.42.