France
Ligue Nord Pas-de-Calais
Coupe de la Ligue Seniors Semi-Final
Saturday 3rd June 2017
Kick Off 19.00 Actual 19.07
A.S. Outreau Football 3 A.S. Hellemmes 3 (4-5 pens),  attendance 230
22′ 0-1
34′ 1-1 (pen)
40′ 1-2
70′ 2-2
90′ 2-3
90′ + 3, 3-3
@ Stade Municipal
Terrein D'Honneur
Rue du President Kennedy
62330 Outreau
€5 Admission
No Programme.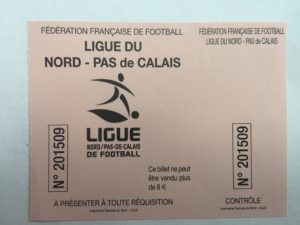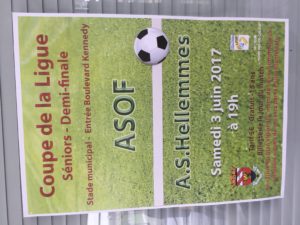 *Match Poster.
With the regular season over in England, it was nice to still get a game in that was only 100 miles from home. It also made a nice change to head south when exiting the tunnel, rather than east, with Outreau only half an hour drive down the coast, just to the south of Boulogne-sur-Mer.
The top division of the Ligue Nord Pas-de-Calais is the fifth level of football in France, with the Coupe de a Ligue (League Cup) being contested by clubs from all four levels of the league. Today's game was third level (champions of their division) versus fourth level (finished 4th in their division) of the league.
The match started at a very slow pace, but soon kicked into life. With the scores level at 2-2, Hellemmes had a man red carded on 81 minutes, but looked to have won it when they went in front in the last minute, but three minutes into stoppage time, Outreau levelled it up with a superb shot off the underside of the bar. Thankfully, no extra time and straight to penalties. Hellemmes went first and were up 5-4 after the first nine kicks. The final attempt for Outreau was scuffed high and wide, sending the visitors into the final, where they will face F.C. Bondues.
Easy drive back to the tunnel and quickly through security, which enabled us to board a train slightly earlier than we were booked on. Even allowing for the time difference, despite the game only finishing at 21.10, I was back in the house for 22.45 !