Rugby Football League
Championship
Sunday 4th June 2017
Kick Off 15.00. On Time !
London Broncos 34 Halifax 6,  attendance 857
@ Trailfinders Sports Club
Vallis Way
West Ealing
London
W13 0DD
£20 Admission
£3 Programme, 36 pages.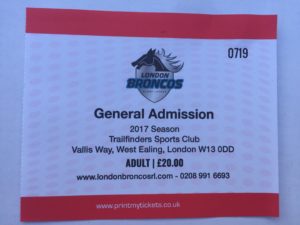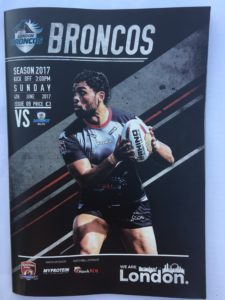 This was 3rd v 5th, although in reality, the gulf between the two teams was huge. Halifax were very poor and London had the game sewn up by halftime when they went in 22-0 up. Despite converting the opening try of the second half to pull it back to 22-6, the hopes of a comeback were quashed when Dixon converted his own try just before the hour mark to put London up 28-6. This was the seventh straight win for the Broncos.
Over the years London, under various names ,have played home matches at numerous venues, but one thing seems to remain constant…..poor crowd numbers, with the crowd today only about half of the official figure given. Perhaps the cost is too much, especially when they then rip people off with a £5 charge for car parking inside the ground, although there are no restrictions in the surrounding streets, which is where most people were choosing to park. The matchday programme is also overpriced and doesn't even have a league table in it !
I have missed a fair few of the 'one off' venues used for their home matches since I first saw them play at home back in October 1992, but have still seen them host games on seven grounds previously………….Crystal Palace National Sports Centre, Barnet Copthall Stadium, Griffin Park (Brentford F.C.), Stoop Memorial Ground (Harlequins RUFC), The Valley (Charlton Athletic F.C.), Welford Road (Leicester Tigers RUFC) and 369 Molesey Road (Esher RUFC).