Pre Season Friendly
Wednesday 19th July 2017
Kick Off 19.00 Actual 18.58
Fordingbridge Turks 2 Fawley 7,  attendance 25
@ Fordingbridge Recreation Ground
Ringwood Road
SP6 1AN
No Admission
£1.50 Programme, 16 pages, covering all pre season matches.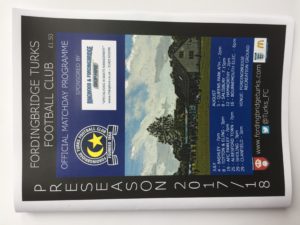 Fordingbridge Turks are the oldest club in Hampshire, having been formed in 1868 ! They take their name from the renowned fighting spirit of the Turkish forces who faced the mighty Russian Army in the Crimean War. They play in Division 1 of the Bournemouth League, which is the second tier. Fawley play two levels higher, in Division 1 of the Wessex League.
It took a while for the deadlock to be broken, but it was pretty much one way traffic from that point. Fawley scored after 33, 37, 52, 56, 61, 64 and 69 minutes to lead 0-7. Turks scored twice the in the last ten minutes, giving me a second 2-7 score line in my last 3 matches.