Pre Season Friendly
Tuesday 25th July 2017
Kick Off 19.30. On Time !
Hull City 0 F.C. Nantes 0,  attendance 2,097
@ Hull Kingston Rovers R.L.F.C.
KCOM Craven Park
Poorhouse Lane
Kingston upon Hull
HU9 5HE
£12 Admission
£1.50 Programme, 16 pages.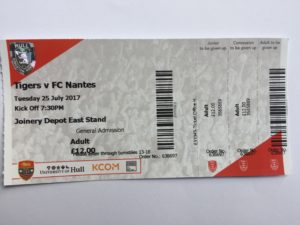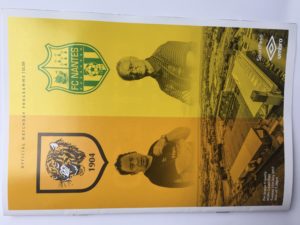 Craven Park, which is also referred to as New Craven Park, as it takes the same name of the stadium it replaced in 1989 (old one was on Holderness Road) is home to Hull Kingston Rovers R.L.F.C. From 1995 to 2005 it also hosted the Hull Vikings Speedway team and during the 2015/16 season it played host to a handful of football matches when Hull United played here in the Northern Counties East League.
I was living abroad at the time, so never got to see football played here, and if it wasn't for the fact that Hull City were carrying out work on the pitch at the KCOM Stadium, then this might have been a ground I would have missed out on, for football that is, as I had been here for rugby league on 14.10.1990, when 5,583 were present for Hull K.R. 22 Widnes 20 in a Division 1 match. The attendance tonight was never going to trouble the 12,225 capacity and only the East and West sides of the ground were open.
Having visited Boothferry park a few months earlier (16.4.90 Hull City 2 Wolves 0, Division 2, attendance 7,510) and then the brand new KC Stadium, as it was then known, (18.3.03 Hull City 1 Torquay United 1, Division 3, attendance 13,310 ) I never thought I would get to see a third venue stage a Hull City match.
This game never looked like producing a goal. That about sums it up. The only thing of note was the fact that it was the first game back in England for visiting manager Claudio Ranieri, following his sacking at the defending Premier League champions Leicester City.