Belgium
West Vlaanderen Provincial Cup
Group B
Wednesday 2nd August 2017
Kick Off 19.00 Actual 19.02
K.V.C.S.V. Oostkamp 1 K. Zwevegem Sport 3,  attendance 57
7′ 0-1
51′ 1-1
53′ 1-2
90′ 1-3
@ Albrecht Rodenbachstraat
Domein 'De Valkaart'
8020 Oostkamp
No admission*
Team Sheet, free.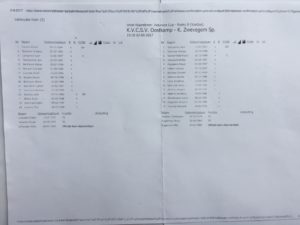 This was Provincial 1 versus Provincial 2 and all very low key. The pay box at the ground entrance remained closed throughout and it was a bit of a surprise that no one came round to collect any money during the match, which can often be the case when there is a lower than normal crowd (there was a much bigger crowd for the youth match that was played on the same pitch beforehand). Anyway, it saved us €8, which was the advertised price on the gate.
Zwevegem were the better side throughout and always looked in control, despite only sealing the win in the last minute.
The Tunnel was once again suffering with high volumes of traffic on the way out, resulting in a 30 minute delay, They still hadn't sorted things by the time we returned at 2200 (only 1 hour 9 minutes drive from Oostkamp) for our booked 2250 return, which meant a re-timed schedule and so we made it onto an earlier train which was running late, departing at 2225. This meant very little waiting time in Calais and back home for 2310 !