North West Counties League
Division 1
Thursday 17th August 2017
Kick Off 19.45 Actual 20.10
St. Helens Town 0 Abbey Hulton United 0 (abandoned 90+7 minutes, floodlights),  attendance 178
@ Ruskin Drive Sportsground, 3G Pitch
Ruskin Drive
Dentons Green
St. Helens
WA10 6RP
£5 Admission
£2 Programme, 48 pages.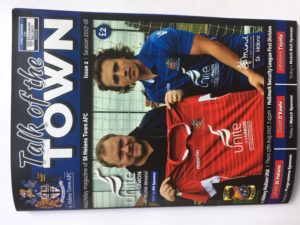 I saw St. Helens play at their old Hoghton Road ground on 6.11.1996 (3-2, v Darwen in NWCL 1). They moved from here in 2002 when the ground was sold off for housing, playing at various grounds of other clubs, including 10 years at the old St. Helens RLFC ground at Knowsley Road, where I had already seen football played, as it was previously used by Liverpool Reserves.
Tonight was billed as their return to the town, as they finally played their first game on the 3G caged pitch at Ruskin Drive, which will also host Pilkington, who are in Division 1 of the Cheshire League. Back on 16th December 2000, I saw a game here at Ruskin Drive, when Pilkington beat Barnton 4-1 in a Mid Cheshire League, Division 1 match. That pitch, which was grass, is now partially covered by a 3G rugby league pitch, which runs lengthways behind the seated stand of the new 3G football pitch.
Tonights game certainly turned out to be eventful. With the Thelwall Viaduct being closed northbound on the M6, it meant total gridlock as all traffic converged on Warrington and Runcorn in an effort to cross the Manchester Ship Canal. Having left home at 12 o'clock, in order to meet up in Uxbridge at 1 o'clock from where I had been offered a lift, it certainly shouldn't have been such a stressful journey and we only arrived at the ground at three minutes past seven. Still 42 minutes before the scheduled kick off, but there was little chance of the game kicking off on time, as the visitors, who are from Stoke-on-Trent, were having to endure the same problems we had faced, but were still en route and were not sure if they would even make it, so there was a chance the game might not even take place.
With this news filtering through, there was still a chance of at least watching a game tonight. Two teams were warming up on one of the grass pitches in the complex. It turned out to be Pilkington Reserves v  F.C. St. Helens Reserves, which should have started at 18.45, but was in fact only just about to get underway at 19.07. No harm in watching it, just in case Abbey Hulton didn't make it. Pilkington were leading 1-0, when a minibus  pulled into the car at 19.34………it was Abbey Hulton, so it was back to plan A.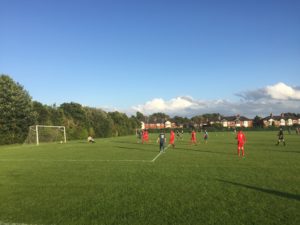 Above. Pilkington take a 1-0 lead.
With the visitors now here, it was just a case of how late we would be starting. It appeared that it was to be 20.10. Nothing strange in that, until the rumours started to circulate that there was a curfew on the floodlights and that as the ground is owned by the council, there was nothing that could be done about it. The lights would be switched off at 22.00 !
An absolutely dreadful game, played in a dreadful ground for the level they play at. Seven minutes into stoppage time, with it now reaching 22.00, Abbey Hulton were awarded a penalty. Following treatment for a home player it was time for the kick to be taken. The No.9 placed the ball on the penalty spot, took a couple of steps back and steadied himself. Then, as we had been warned, the floodlights went off. It was now 22.02 and the match was abandoned.
A complete shambles. According to the NWCL website the match was abandoned after 90 minutes and the match is 'under investigation'. You just couldn't make it up.
The journey home was better, but with the motorway twice down to one lane and endless stretches of 50 mph limits it meant I arrived home just five minutes short of 15 hours after I had set off.
Due to most of the ground being inaccessible to spectators and the low sun, it meant getting a decent photo was not easy, although in a ground like this there is very little worth photographing anyway.