Gwent County League
Division 3
Tuesday 5th September 2017
Kick Off 18.15 Actual 17.59
Usk Town 5 Race 2,  attendance 51
32′ 0-1
35′ 0-2
40′ 1-2
55′ 2-2
83′ 3-2
88′ 4-2
90′ 5-2
@ The Island
Pontypool Road (A472)
Usk
NP15 1SY
No Admission
Programme, free, 12 pages (3 blank).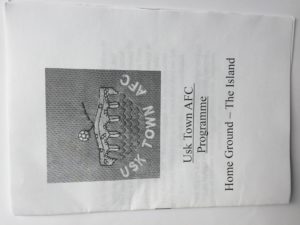 Usk Town are newly promoted, having won the Gwent Central League last season, as well as their divisional league cup. Four games into this season they are second in the table, with the visitors currently in fourth place.
Despite going 0-2 down, Usk never let their heads drop and having pulled a goal back just before the break, they got well on top in the second half, but the three late goals made the win look more comfortable than it actually was.
With all the players kitted out promptly, the Referee said they would get started a few minutes early……it turned out to be 16 minutes early, which, with the players staying on the pitch at halftime (it was a good 400 yards back to the changing rooms) it meant we were all done by 19.37 !