F.A. Vase
1st Qualifying Round
Sunday 10th September 2017
Kick Off 15.00 Actual 15.01
Coventry United 3 Tipton Town 1,  attendance 282
38′ 0-1
50′ 1-1
58′ 2-1
83′ 3-1
@ Butts Park Arena ( Coventry R.U.F.C.)
Butts Road
Coventry
CV1 3GE
£7 Admission
£1.50 Programme, 16 pages
Free Pocket Guide, 40 pages.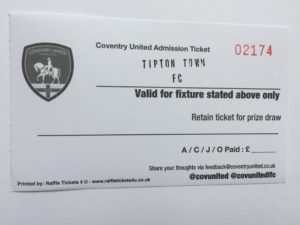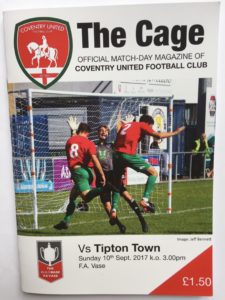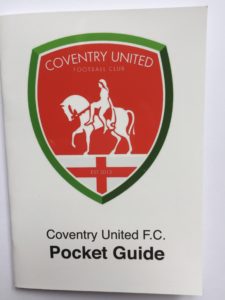 Butts Park Arena was built in 2004 and has a capacity of 3,000, which is basically the number of seats in the main stand. It is mainly used for rugby and has been home to Coventry R.U.F.C. since it opened, as well as Coventry Bears R.L.F.C.(I visited on 5th September 2004, 36-18, versus Sheffield Hilsborough Hawks, National League 3) and from 2005-2010 the Coventry Jets American Football team also played here. This season, it has also become home to Coventry United, who were formed in 2013 and started life at The Alan Higgs Centre. On the pitch they have had a very successful start, winning promotion from the Midland Division 3 in 2014, then being champions of Division 2 the following season, before winning Division 1 in 2016. They are currently top of the Premier Division, having won five and drawn one, of their opening six league matches.
There looked like there might have been a cup shock when the visitors, from West Midlands (Regional) League Division 1, took the lead just before halftime, although once they were pegged back, they never looked capable of scoring another goal and Coventry comfortably progressed to the next round.
Despite the ground being floodlit, the chance to visit on a Sunday was too good to miss. Others were obviously thinking the same, as incredibly, almost a third of the attendance were ground hoppers !