Gwent County League
Division 2
Monday 18th September 2017
Kick Off 20.00 Actual 20.01
Ynysddu Welfare 3 Machen 0,  attendance 75
27′ 1-0
57′ 2-0
64′ 3-0
@ Pontllanfraith Leisure Centre, 3G Pitch
Coed Cae Ddu Road
Blackwood
NP12 2DA
No admission
Programme, free, 32 pages.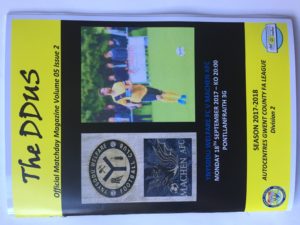 The first thing to note here, is the superb programme they issue, (produced by Manager Benjamin Murphy) which is free, and puts many clubs to shame higher up in the game who produce far inferior programmes to this, but have the cheek to charge £2 for them !
The club are now playing out of their own village, having left Ynysddu Welfare Park (visited 30th September 2003, 1-1 versus Cwmaman Institute, South Wales Amateur League Division 1) for the 3G pitch here at the Leisure Centre. We were told that despite being relatively new, this site is to be sold off for housing, but apparently there is already a replacement facility built nearby, so another visit to the valleys will have to be made some day.
As for the game, which was 3rd v 7th, Ynysddu were the better side throughout, with the third goal being the pick of the bunch. The win now sees them go second in the league table behind Wattsville, who are top by way of a superior goal difference.