Belgium
National League
Division 3 Amateurs ACCF B
Sunday 24th September 2017
Kick Off 15.00 Actual 14.59
R.S.C. Habay-La-Neuve 2 R. Entente Bertrigeoise 0,  attendance 280
19′ 1-0
34′ 2-0
@ Stade E. Mathieu 
Rue Des Carosses
6720 Habay
€8 Admission
No Programme.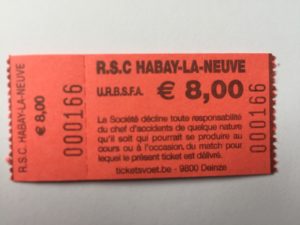 Division 3 Amateurs is actually level 5 of the Belgian League. Unusually, the province of Luxembourg has four clubs competing in this division this season, as normally, whoever wins Provincial 1 from here swaps places with the bottom club from the league, which is invariably the champions of the previous season of Luxembourg Provincial 1. These two are joined by R.R.C. Mormont, who broke the mould by serving last season, and R.R.C. Longlier and there are actually two further league clubs from the province, as  R. Excelsior Virton play at level 3 and R. Entente Durbuy at level 4.
Despite only being a few weeks into the season, this was already a relegation battle. Habay, who are competing in the Belgian League for the first time in their history, were second bottom in the league table, without a point, whilst Bertrix were fourth bottom, with 4 points. The game was not great, between two very average teams, although at least Habay are off the mark now.
Horrendous traffic jams on the E411 motorway meant we missed our check in for the 21.50 return on The Tunnel, but problems with trains running late meant we managed to get on the 22.20 instead, although this didn't leave until 22.46.
At least with this ground now done, all the remaining Belgian League grounds I now have left to visit are less than 300 miles from home !