Spartan South Midlands League
League Challenge Trophy 2nd Round
Wednesday 27th September 2017
Kick Off 19.45 Actual 19.53
Park View 1 Cockfosters 3,  attendance 36
11′ 0-1
26′ 0-2
70′ 1-2
78′ 1-3
@ New River Stadium
New River Sports Centre
White Hart Lane
Wood Green
N22 5QW
No Admission
£2 Programme, 16 pages, 1 blank.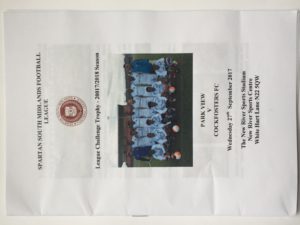 This is yet another stadium that I have previously visited to watch rugby league. On 29th June 2003, I saw London Skolars 6 Workington Town 52, attendance 324, in National League 2. The only change of note since then is that the grass pitch is now a 3G surface, which was probably a good thing tonight as it poured with rain for most of the match, although Park View did have their first home midweek game this season postponed due to a waterlogged pitch, so perhaps not.
Park View have started well in their first season in the Spartan South Midlands League, Division 2, and are unbeaten, winning five of their first six matches, which sees them second in the table. Cockfosters are two divisions higher, so were always favourites to win this.
Another match that kicked off late for no apparent reason, other than the incompetence of the match officials to get started on time and the game didn't finish until 21.43.