Australia
A-League
Sunday 31st December 2017
Kick Off 19.00 Actual 19.05
Central Coast Mariners 0 Wellington Phoenix 0,  attendance 9,110.
@ Central Coast Stadium
14 Dane Drive
Gosford
NSW 2250
AUD $32 Admission
Programme, free, 16 pages.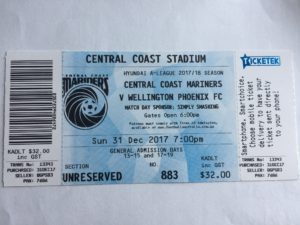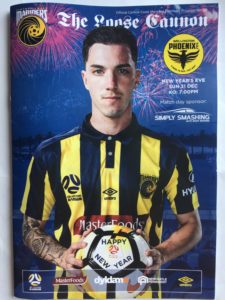 Central Coast Mariners play in the town of Gosford, which is nearly fifty miles north of Sydney, taking around an hour and a half by train from Sydney Central Station. On Sundays, transport in the Sydney area is capped at AUD $2.60 for unlimited journeys using an Opal Card. As the region covered stretches as far as Gosford, this is superb value. The only real downer was that the club were promoting 'kids go free' for tonight's game, which is never good news for anyone who has any interest in actually watching the match. The hordes of kids running amok certainly have no interest whatsoever, but the crowd was up by about a thousand on the normal turnout, so the club will claim it was a success.
Central Coast Stadium was opened in February 2000 and has a capacity of 20,059. Northern Eagles, Sydney Roosters, Manly-Warringah Sea Eagles, South Sydney Rabbitohs, Canterbury-Bankstown Bulldogs, Cronulla-Sutherland Sharks and Wests Tigers have all played home matches here in the National Rugby League. The ground is three sided, the southern end being open, which gives views through the palm trees to Brisbane Water. Entering Gosford by train from Sydney, you pass the ground coming in to Gosford Station and it is a 7 or 8 minute walk back to the north east corner of the stadium where the ticket office is situated.
The match itself was really poor. Perhaps this should have been expected as it was third bottom, versus bottom, in the league table. Mariners were one of the original teams that played in the first season of the A-League, back in 2004, actually winning the league once, from their four Grand Final appearances, but are way off challenging for honours this season. Phoenix are absolutely rubbish, which is the norm for the token New Zealand club that compete in the A-League. I don't see what benefit it is to the league, or club, for them to be the whipping boys each season. Surely it would be better to have another Aussie team instead.
Finally, a quick mention about the match programme. It is a good job it is free as it is little more than an advert pamphlet. The little content that it did contain was hopelessly out of date. The results and league table were only up as far as 7th December, in which time they have played three more games, including a home match on 16th December !