Belgium
Oost Vlaanderen Provincial 1
Sunday 3rd December 2017
Kick Off 18.00 Actual 18.04
K.S.V. Sottegem 2 K.F.C. Eendracht Zele 1,  attendance 204
35' 1-0
44' 2-0
54' 2-1
@ Stedelijk Sportstadion Jules Matthijs 
Kastanjelaan 85
9620 Zottegem
€7 Admission
Team Sheet, free.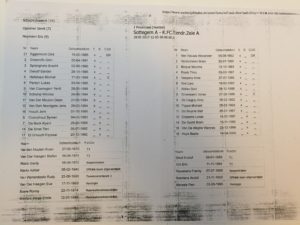 It had taken 23 minutes to drive south east to Zottegem (spelled with a 'Z', unlike the club, who spell their name with an 'S') and with each mile, the snow looked to have fallen heavier. We were quite surprised how little snow was on the pitch when we arrived, although the pitch markings had been swept clear. There seemed to be some doubt over whether the match would be going ahead. The three match officials seemed rather laid back, finally finishing their coffee and biscuits, before heading out to do their pitch inspection at 17.20. It was given the go ahead, but the pitch markings would have to be re-done, as they claimed they weren't visible, although they could clearly be seen by everyone else !
The Stadium here has a capacity in the region of 8,000, illustrative of their former status as a Belgian League club, playing as high as level two.
Sottegem were thirteenth in the league table, whilst the visitors arrived in third place. Zele were well on top in the first half, but somehow trailed by two goals at the break, which were totally against the run of play. Having conceded early in the second half, it was pretty much backs to the wall for Sottegem and with resolute defending and some ridiculous time wasting, they hung on for the 3 points.
Having rained for most of the first half, the snow had pretty much disappeared by the end of the match, but at least it stopped before our mad dash back to The Tunnel. The match had dragged on, which meant it was 19.58 when we left the car park at the ground. It wouldn't normally be a problem, but according to Eurotunnel, we were on the last crossing of the night, at 22.21, so had to make the check-in by 21.51. If we missed this, it would mean waiting until 01.42 for the next shuttle. An excellent run back meant we were checked in at 21.42 and for once, the U.K. Passport Control were working at a good pace, meaning we actually made it onto the earlier 22.06 train by the skin of our teeth.